Labels in Gmail help you to categorize and sort your emails effectively. However, when labels are not properly managed, it can create difficulty in finding specific emails. This is where deleting labels comes in handy!
If you created a label by mistake, or if you have labels that you no longer need or are irrelevant, you can delete them to declutter your Gmail.
Remove Labels in Gmail on PC
Want a quick and straightforward way to remove unwanted labels? If that's the case, you can consider this method to delete these labels directly from your Gmail homepage.
Open your Gmail Homepage.
Go to the Labels section on the left pane.
Look for the label you want to delete and click on the ellipsis (three dots).

Click on Remove Label.

Lastly, click Delete.

Sometimes, if you cannot find the label you're looking for, chances are that label might be hidden. In such a case, you need to navigate the Gmail settings to locate and delete your labels.
Click on the Gear icon on your Gmail's homepage.
Then, click on See all settings.

Click on Labels.

Scroll down, and you will see all your labels listed. Find your label and click on Remove.

Finally, click Delete.

Remove Labels in Gmail on Android
Unfortunately, there is no such feature in the Gmail App that can help you delete the labels. However, if you use a mobile browser (preferably Google Chrome), you can delete those labels. Here's how you can do it:
Open the web browser and log in to your Gmail.
Click on the three horizontal lines.

Scroll down, and from the bottom of the page, click Desktop.

From the left side, tap on Edit labels.

Now, beside the label – click on Remove.

Remove Labels in Gmail on iPhone
Unlike Android, you can simply delete the labels from the Gmail app on your iPhone. Here are the steps.
Open the Gmail app.
Tap on the three lines, then scroll down and tap on Settings.

Tap on Inbox customizations.

Then, tap on Labels.

Now, tap on the label you want to delete.

Then tap on Delete 'labels' name.

Finally, tap on Delete.

For further email organization, you can also refer to our other article on how to rename a label in Gmail.
Frequently Asked Questions
Will Deleting the Label Also Remove Emails Permanently?
No, deleting the label won't remove emails permanently. The emails contained in the label will still be available in your 'All mail' label.
However, if you want to remove the email permanently, simply open the email and click on the Delete icon. Then, go to your trash and purge it completely.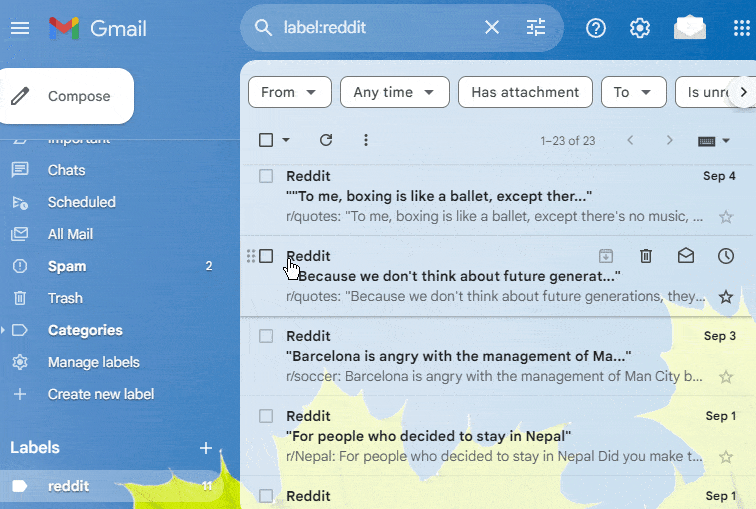 Can I Recover a Deleted Label in Gmail?
No, you cannot recover a deleted label in Gmail. However, the emails associated with that label will remain intact in your account.
Can I Delete the Default Labels in Gmail?
The default labels such as Inbox, Sent, Drafts, and Trash cannot be deleted. Gmail only allows you to remove the user-created labels.