Excel is more than just a productivity tool. When you're feeling a little burnt out, or simply want to entertain your colleagues at work, you can try running games on Excel!
You may be curious as to how Excel could even run a game. Well, Excel supports the use of macros through the Visual Basics for Application (VBA) code. Using this script, you too can create your own game in Excel.
In this article, we have arranged 16 cool games you can play by yourself, or with other users in Excel. The games in this list are of different genres so you know this list is for everyone!
Before You Run Your Game
By default, your computer and Excel block the use of macros from unidentified sources. This is a security feature that restricts malicious macros from running inside your program.
However, this feature will also restrict your game from running. Before you open the worksheet containing your game, head to the properties to unblock the file for your computer. Additionally, if you haven't already, enable macros on the Excel program.
Navigate to the location your file is saved on File Explorer.
Right-click on it and select Properties.
In the Security section, check the box for Security.
16 Cool Games in Excel
Here are the games we will be discussing in this article today.
Tictactoe
Genre: Board Game
Difficulty: Easy
Number of Players: Single Player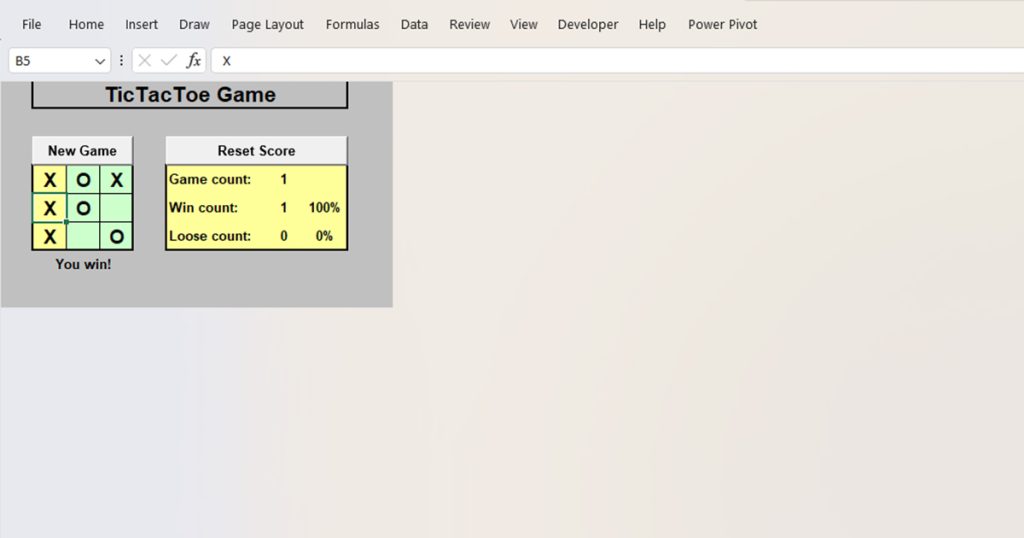 Honestly, who doesn't love a good game of Tic-tac-toe? In this game, you are paired with the computer for a quick game of tic-tac-toe, also popularly referred to as knots and crosses.
You will get to make the first entry in the game. Click on any box inside the green field to make an entry. The game keeps count of the total number of games played, and your win and loss count. You can reset the scores anytime you wish.
MySudoku
Genre: Puzzle
Difficulty: Adjustable
Number of Players: Single Player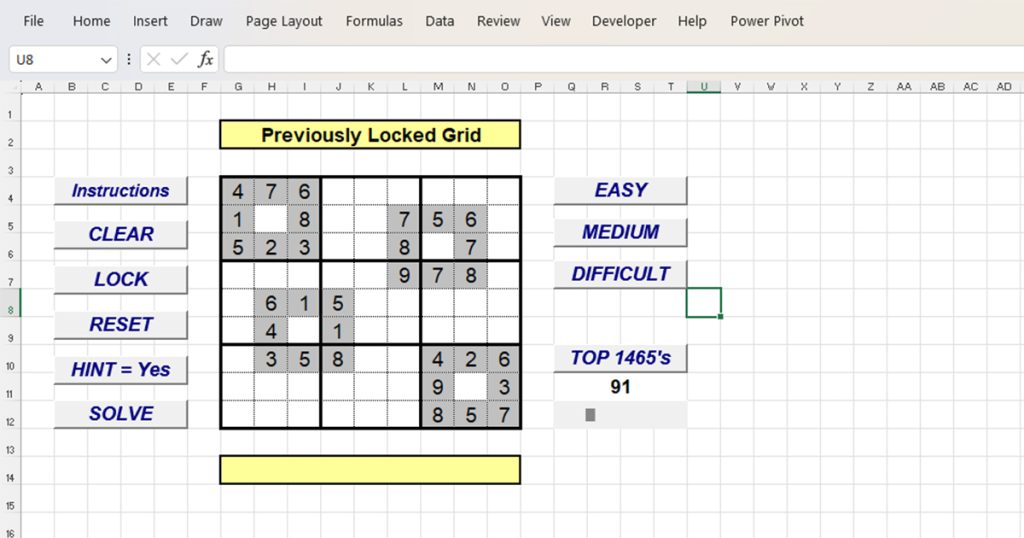 If you're a fan of solving the sudoku puzzle in your daily newspaper, you will definitely love it on Excel. You can choose from three levels of difficulties, Easy, Medium, and Difficult.
You can enter the missing numbers from your keyboard onto the grid. Additionally, you can use the interactive buttons on the left to conduct more actions. The workbook contains another sheet on the left for the instructions. Therefore you can head on to the Instructions worksheet to read the game's rules.
WingDing Match
Genre: Memory
Difficulty: Increases with Levels
Number of Players: Single Player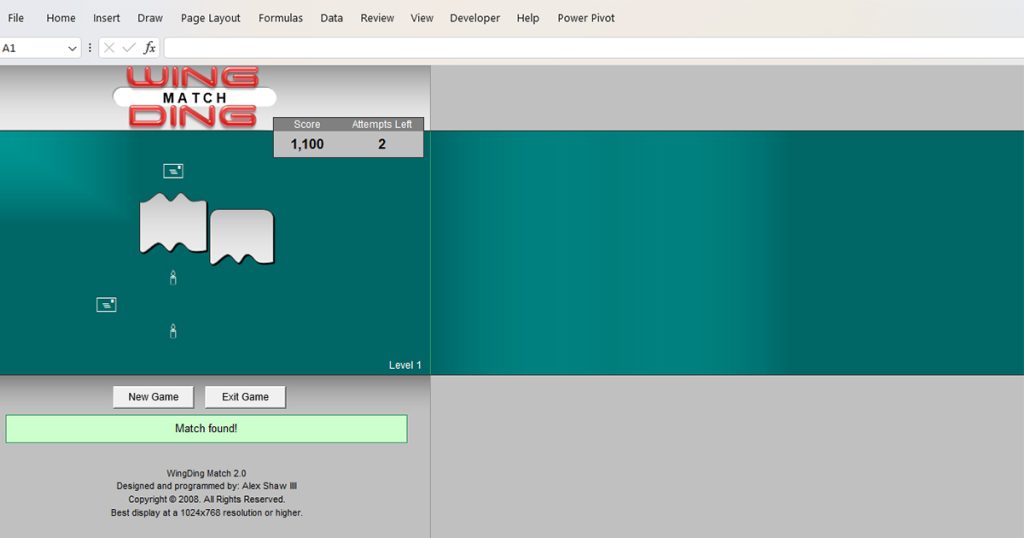 You must be familiar with the wingding font. While you can use Wingding to add arrows or similar elements onto your grid, these characters are also used to create a memory game.
The first level of this game has six tiles with three Wingding characters in them. You can click on each of these tiles to reveal what characters are in them. Using this information, you must flip tiles with the same character in three or fewer attempts.
Although easy in the beginning, as the levels increase, this game becomes progressively more difficult.
MinesXL
Genre: Logic
Difficulty: Moderate
Number of Players: Single Player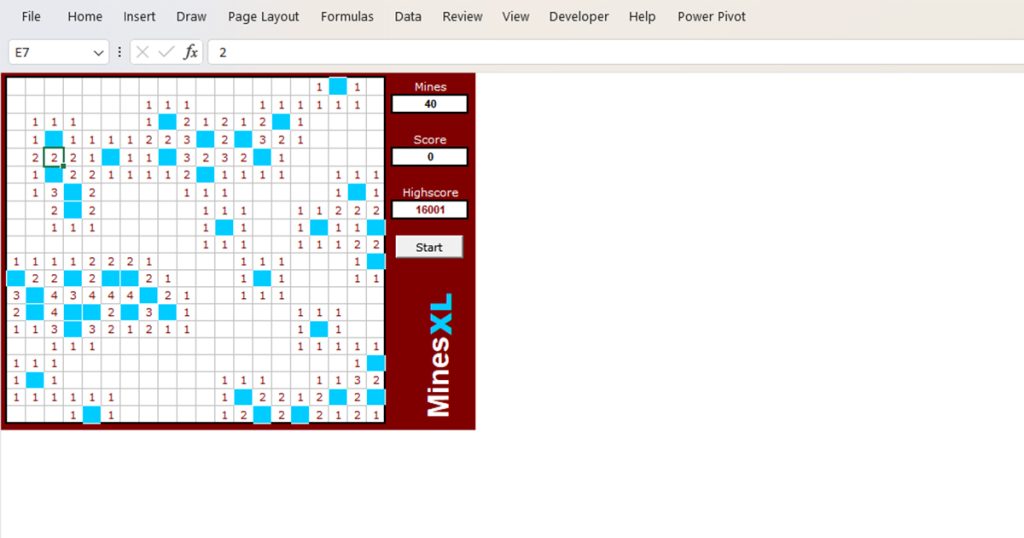 MinesXL is a simple game of Minesweeper on Excel. The rules of this game are exactly the same as playing Minesweeper on a Windows device.
Click on Start on the right to begin the game. You can click on one of the blue tiles inside the interface to play the game. Like the regular Minesweeper game, if you click on the bomb, your game is terminated immediately. If you fail, click on Start again to play a new match.
BrainTrainer
Genre: Multiple
Difficulty: Moderate
Number of Players: Single Player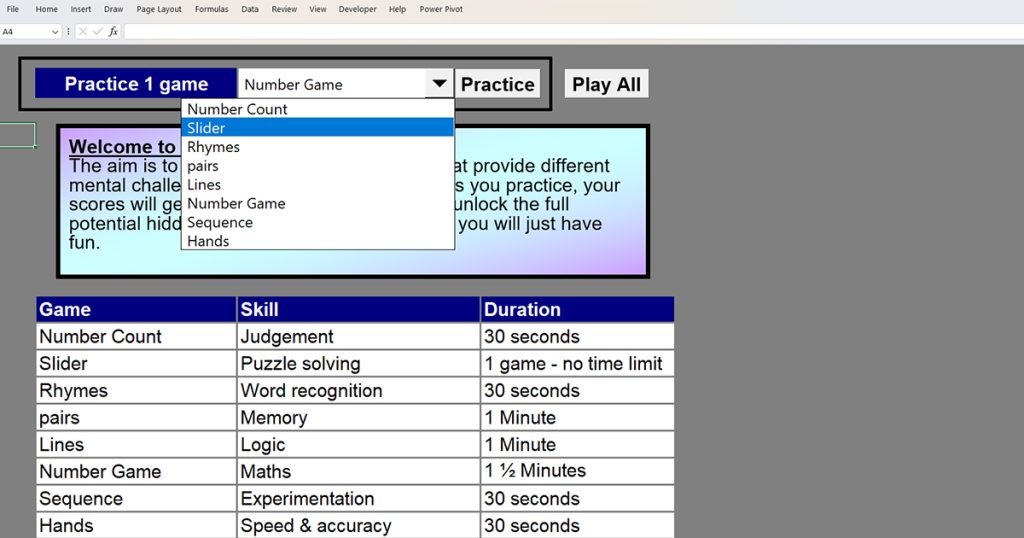 BrainTrainer is for you if you like switching between games. In this bundle, you get to play multiple games including Number Count, Slider, Rhymes, Pair, Lines, Number Game, Sequence, and Hands. Each of these games is different from each other and are also of different genres.
You can switch between the games using the drop-down list next to the Practice 1 game option. Once you've selected your option, you can click on Practice.
Each of these games is a great brain teaser and can be highly addictive with time.
MouseHunt
Genre: Puzzle
Difficulty: Moderate
Number of Players: Single Player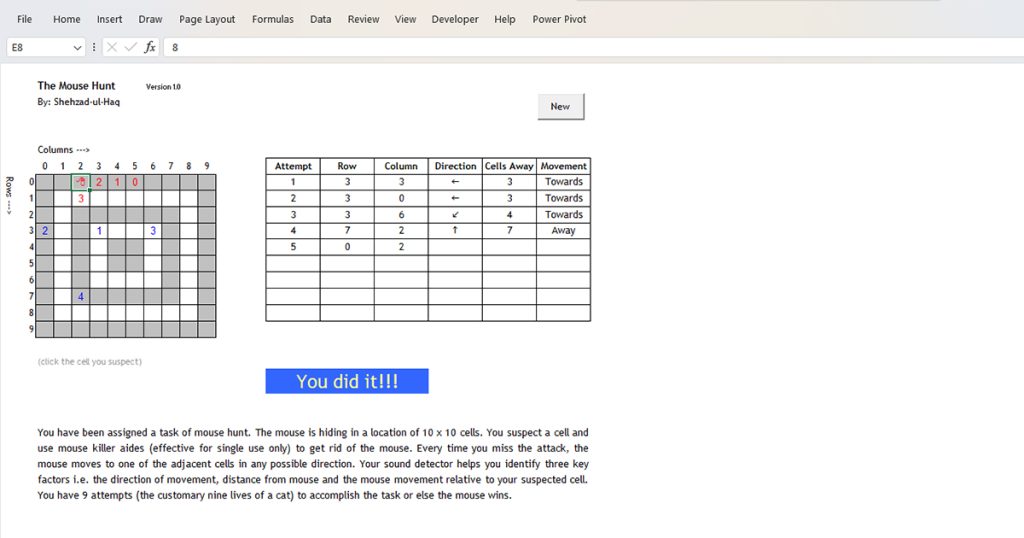 MouseHunt is a great puzzle game that is based on locating a computer mouse. You have nine attempts in total to locate the mouse inside the 10×10 alignment.
Once you click on a box inside the alignment, you can see some information on the table to the right. Use the information in the table as hints as to where the mouse is located at. After each attempt, follow the direction and the movement specified in the cell to locate your mouse.
Remove Pairs
Genre: Puzzle
Difficulty: Easy
Number of Players: Single Player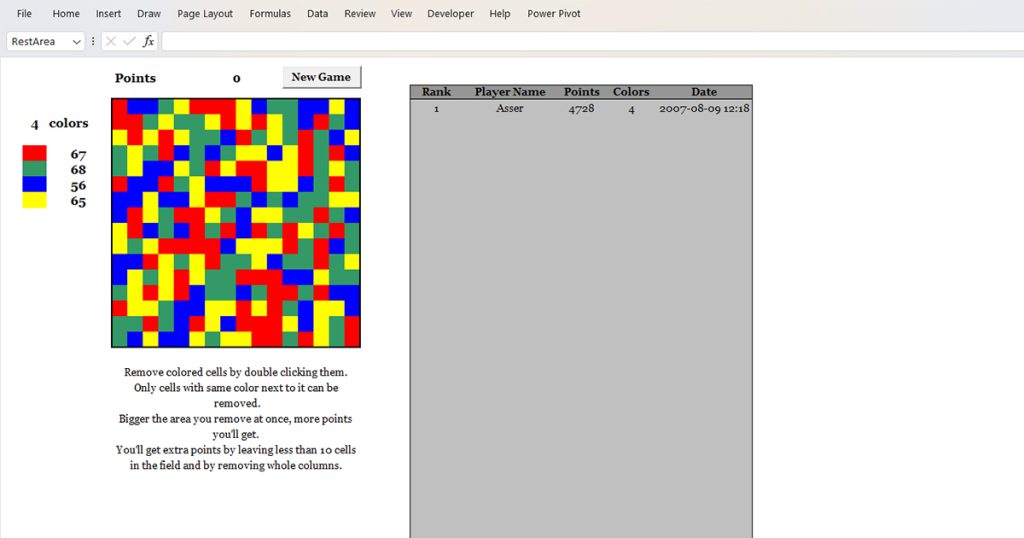 If you're more into easy and relaxing games, Remove Pairs might just be the right fit for you. There are a total of four colors you must remove to win points in this game.
When each colors are in pairs, click on them to remove them. You cannot remove the numbers if they're not placed in pairs. The bigger number of pairs you remove, the more points will be added to your game. Your game is finished once there are no pair left to be removed inside the box.
Bingo
Genre: Chance
Difficulty: Easy
Number of Players: Single Player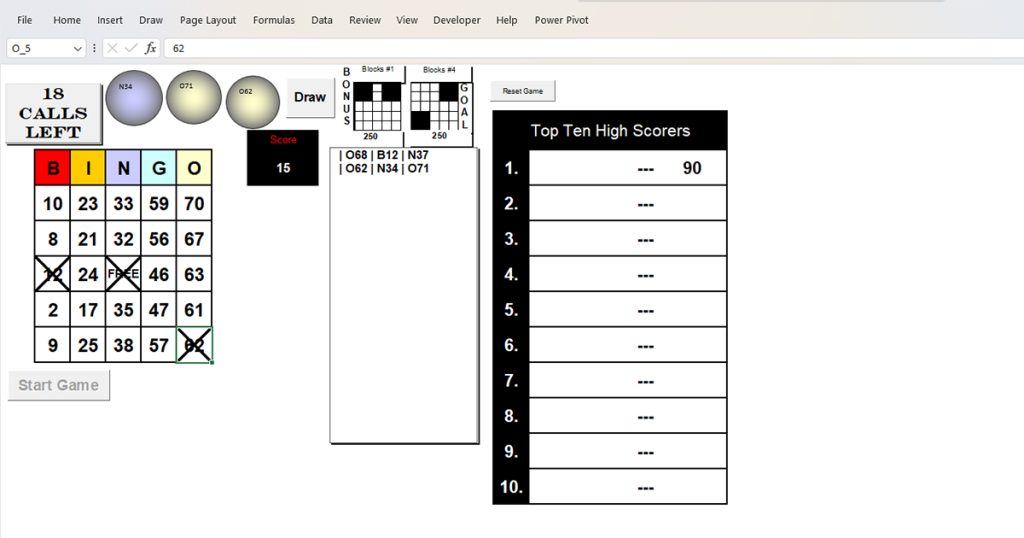 Bingo in Excel is basically the classic game of Bingo brought to your screen. You will get the chance to draw three numbers from each column: B, I, N, G, and O in one call. You will have to match these numbers to your bingo.
Additionally, as a bonus goal, you can match your bingo according to the two blocks on the top of your screen. You will first have to click Start Game to begin the game and click on Draw each time to draw new numbers.
Word Match Game
Genre: Word Puzzle
Difficulty: Moderate
Number of Players: Single Player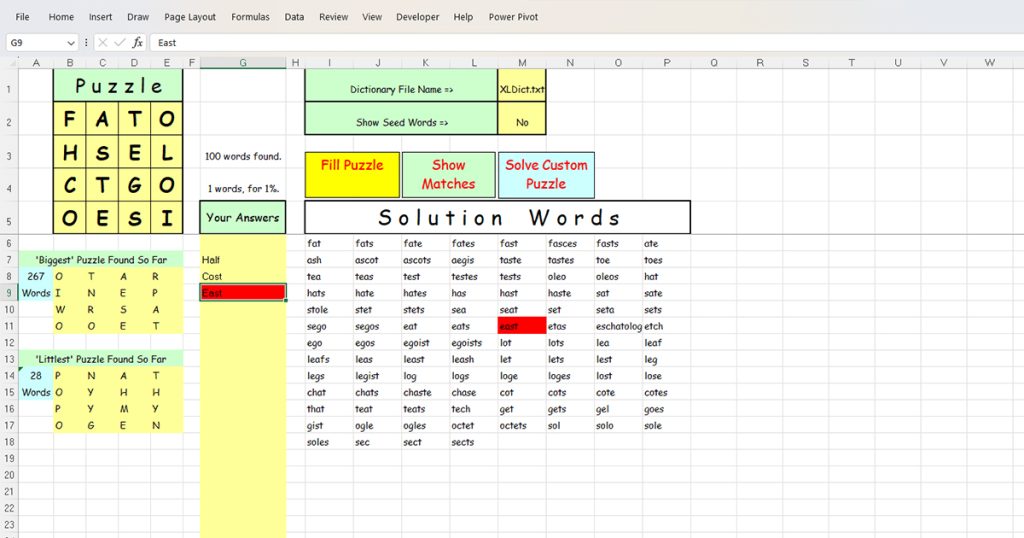 If you love word games, you should definitely try out the Word Match Game. In this game, you will be given a combination of 16 letters. On the right, the game will also display the total possible words you can create out of this combination.
Under Your Answers, type down all words you can think of. When you're done, click Show Matches to see what word you missed and if your answers match the set combination.
MindReader
Genre: Trick
Difficulty: Easy
Number of Players: Any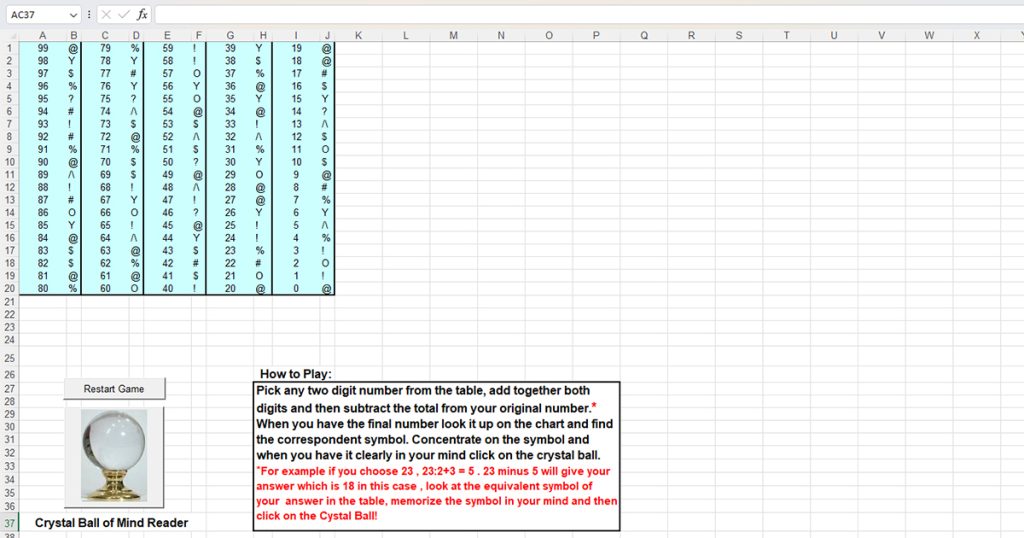 This game is a bit different than the rest of our list. In MindReader, you will have to perform a series of equations. Once you're done, click on the crystal ball, and the game will display your answer on the screen.
Here is how you will play the game. On the cyan table, there is a list of numbers from 1-99. Select any two-digit number and then add them together. For example, if I chose 99, I would be adding 9+9 together. Then, subtract the sum from the original number. In our context, 99-18=81.
Once you've calculated, head on to the table again and check the corresponding symbol. Keep that symbol in mind and click on the crystal ball. And there! The ball will read your mind and display the result on your screen.
This game is best suited for kids as the trick can be a bit too apparent for adults.
Nations
Genre: Strategy
Difficulty: Moderate
Number of Players: 8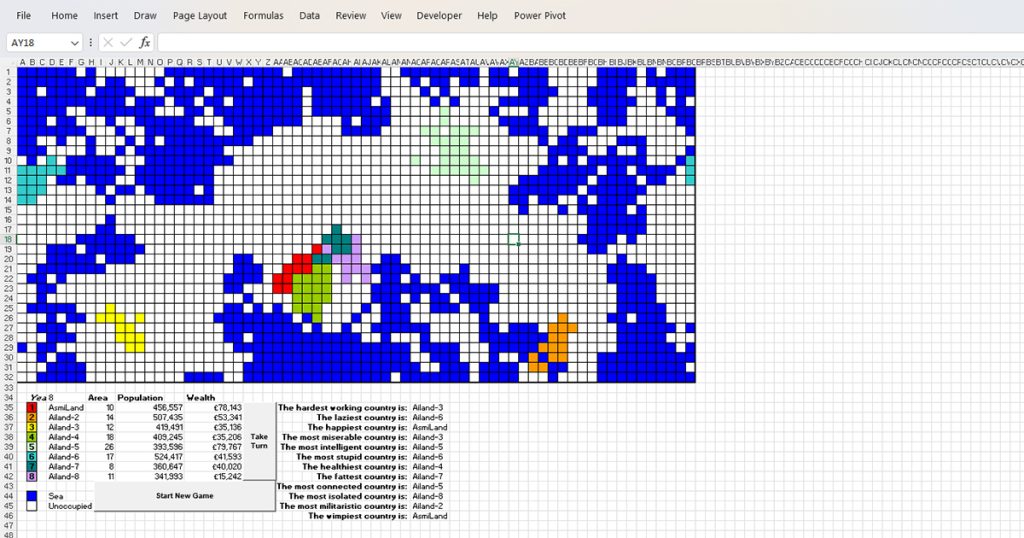 Nations is a great game for groups. As the name suggests, there are a total of eight nations. Your goal is to expand and develop your nation through a series of questions, prompted to you as a dilemma.
On the right, you can see the categorization of the countries in 12 ways. These categorizations are based on the policies you choose when answering the dilemma.
You can start the game by clicking on the Start New Game button. Then, the players can name their country and set a unique password. To take turns, click on the Take Turn button. Good Luck in creating the best nation among the eight nations!
ExcelQuiz
Genre: Quiz
Difficulty: Moderate
Number of Players: Single Player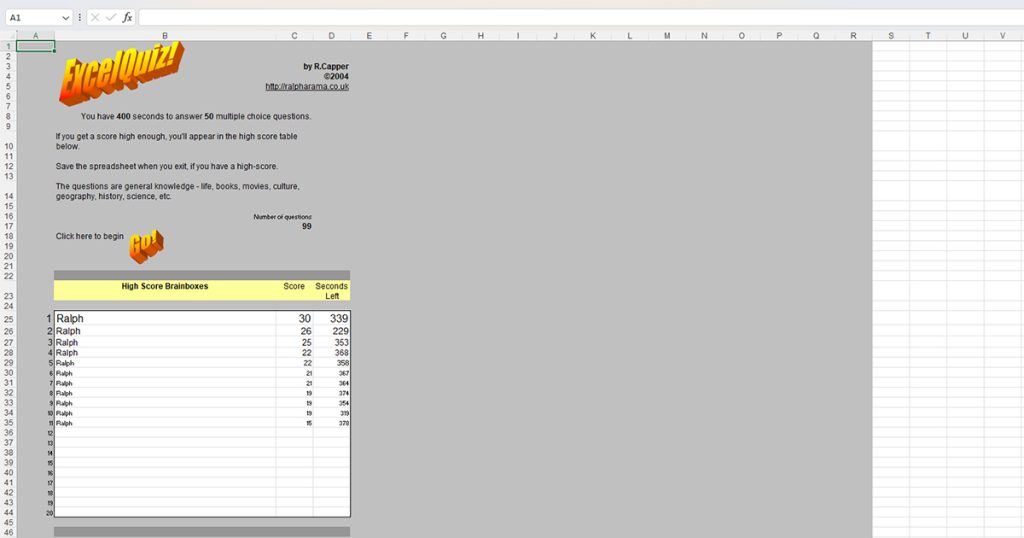 Excel Quiz is a time-based game that consists of 99 general knowledge questions. You will have 400 seconds, which is approximately 6.67 minutes to answer a series of questions based on life, books, movies, culture, geography, history, science, and so on.
You can take turns with your friends to play this game and see who scores the highest. After you're done with the quiz, your scores are listed on the High Score Brainboxes table with your score and seconds left when you finished the game.
The game will open a prompt when you click on Go where you will first have to enter your name. Then, it will set off the timer and begin asking you 99 questions. This game is great for when you want to refresh your IQ.
PokemonExcel
Genre: Strategy
Difficulty: Moderate
Number of Players: Single Player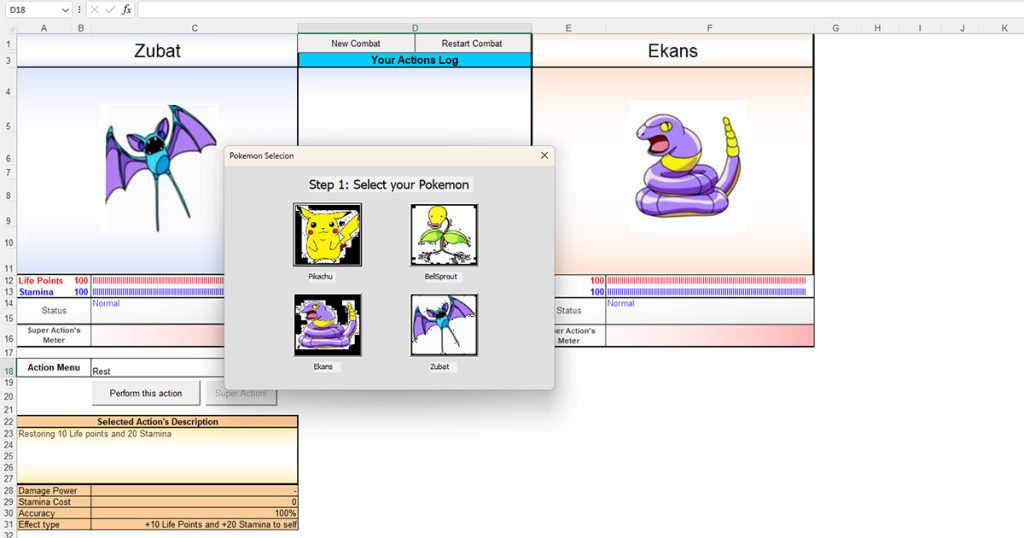 This one is a personal favorite. If you're like me and loved playing Pokemon growing up, this game is for you. Although it's not as vast as the Gameboy version of Pokemon, it is still a decent adaptation.
When you first start the game, you will have to select your Pokemon from Pikachu, BellSprout, Zubat, and Ekans. Once you select your Pokemon, you will have to choose your opponent from the same list.
You will attack first in this battle. Click on the drop-down next to Select an Action and choose a move. To attack, click on the Perform this action button. You can see your action's description in the orange box below. You can see if your attack hit or missed in the Your Actions Log section. If your move inflicted any damage to your opponent, it will be reflected on your opponent's Life Points.
After you attack, it will be your opponent's turn. You can see what move they use in the Your Opponent's Actions Log section. When attacking, be sure to check your Pokemon's Stamina status. You will have to use the Rest move once in a while to recover your Pokemone's both, Life Points and Stamina.
ExcelCodeless
Genre: Role Playing
Difficulty: Adjustable
Number of Players: Single Player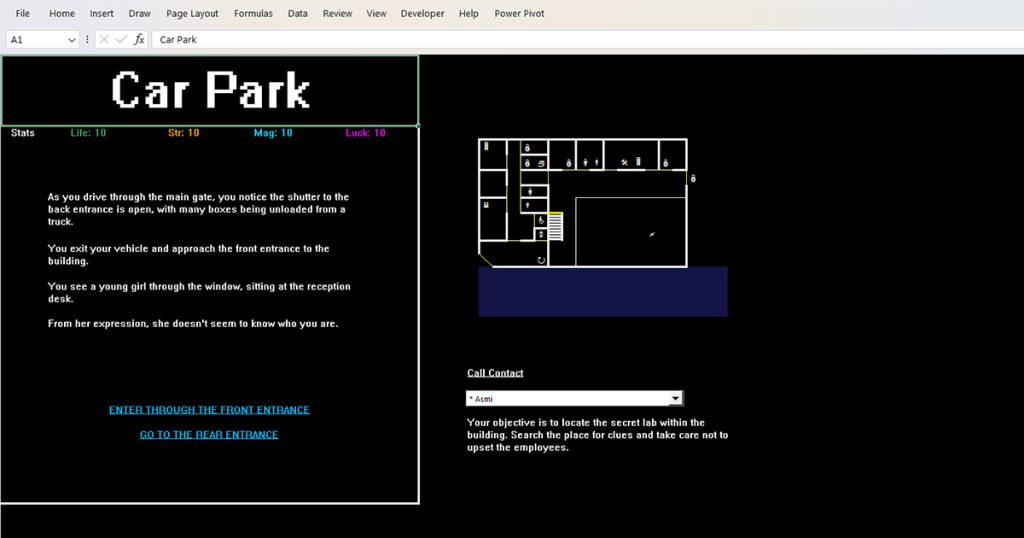 Codeless is a bit different than the rest of the games in this list. As the name suggests, this game is actually codeless, meaning it is used without the VBA code. Nevertheless, this game is pretty interesting to play if you're a fan of choice-based games.
You can start this game by first clicking on the CLICK HERE TO ENTER THE CODELESS WORLD hyperlink. Then, the game will allow you to choose a difficulty level from Beginner to Master. Click NEXT to progress. Follow the prompt to add additional details. Once you enter your name, you will see the BEGIN THE GAME hyperlink to start the game.
The primary objective of this game is for you to infiltrate the head office to identify the secret entrance to the labs of an organization called Tetra Magic. In the game, you will be given choices based on a given situation. You can check your location on the map on the right of the prompt. The game will also display your current location on top of the screen.
Make the right choices and get whatever information you can about the organization. Good Luck!
CimSity
Genre: Strategy
Difficulty: Moderate
Number of Players: Single Player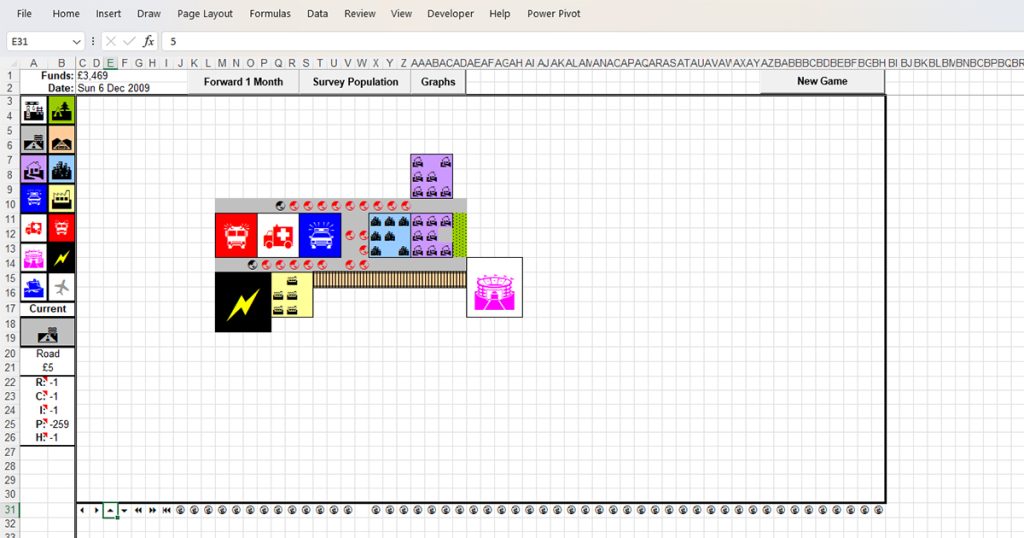 CimSity is the Excel version of the popular life simulator game, Sim City! This game is similar to the classic, however, as the visuals are pretty much limited to just icons, you may have a hard time playing this game.
In your CimSity, you can add 14 elements, including hospitals, airports, residential areas, and much more. From the sidebar, click on an element. You will see the cost of adding the element under the Current section. Remember, your funds start from £3,539.
You can see what element to add by surveying the population. Based on the survey, you can add the needed elements to your city. You can also analyze the correlation between population and cash over the years through Graphs.
Squaria Adventure (Part 1)
Genre: Role Playing
Difficulty: Moderate
Number of Players: Single Player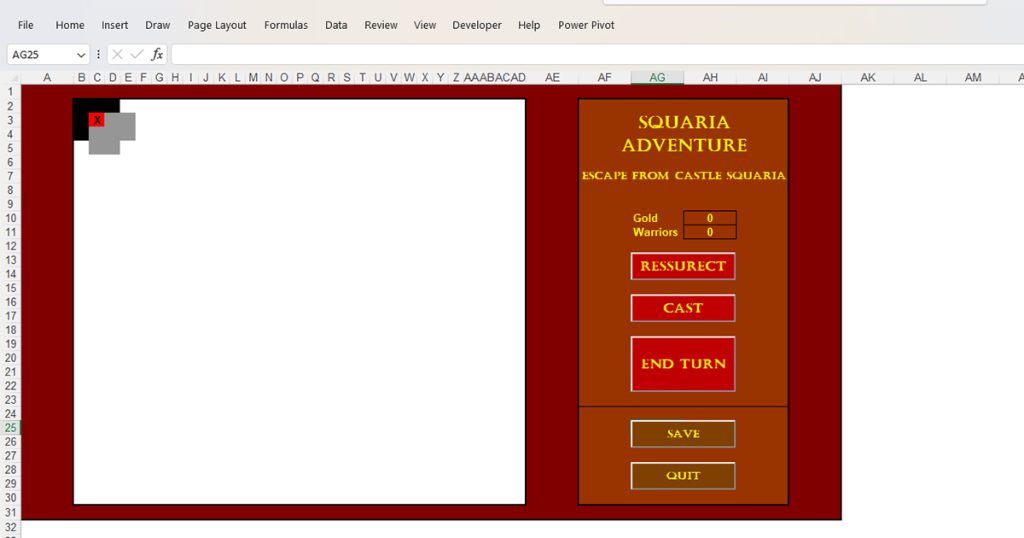 Squaria Adventure is a game based on escaping from a dungeon. The story starts when the once dead rise again. They attack the castle, and you now must escape to warn the town.
The controls for this game are simple. Your character is on the spot marked by "X". You can select any adjacent square to move the character. Once you make your move, you must click on the END TURN button and click again. The squares that are shaded black are blocked, and you cannot move to such blocks.
During your escape, you will come across zombies and fallen soldiers. You must battle the zombies and rise as many soldiers as you can to make your escape. On your way, you also get the chance to collect gold.
This game is quite fun, however, after every move I had to click on the END TURN option to make the next move. This was a bit tedious but apart from that I think it's really addictive.