Nowadays, users care about daily Snapchat streaks very much so the app crashing can be a big issue if not solved faster. Snapchat is an app that is heavily based on photos and videos. So, the app can be affected if you do not have enough space on your phone. Other issues could be due to updates, bugs, or the server itself.
Since, both Android and Apple users are having problems with the app, Snapchat had agreed that it was an issue from their end. However, there are a few things you can try on your end as well.
Restart Phone
If you are using many heavy apps like Spotify, Snapchat, or games at the same time, lagging and crashing can be expectable. Restarting your phone is the best way to freshen up your phone's memory.
On Android
Press and hold the power button

Tap on the Reboot button.

Tap on the Reboot button again.
After a while, press and hold the power button again

If the screen opens, release the power button.
On iPhone
Press the power button and volume down button, which are located at the side of your phone.

Drag the power-off slider to the other side and wait for a few seconds.

Your device will turn off on doing this.
Press the power button for a few seconds to turn it on.

If you see the logo of apple, your device is turned on.
Remove Apps From the Background
When you have too many apps running in the background, your processor gets tired easily. To avoid this, you can remove the apps that you are no longer using for the day from the background.
Go to the Home screen.
Do a long swipe up from the bottom of the screen

Swipe left or right to find Snapchat
Swipe up on Snapchat
Update Snapchat
Since Snapchat is used by many people, it also produces many bugs. These bugs are fixed and sent to you again in the form of updates. That is why updating your app is so important and you should not delay it.
On Android
Open Play Store
Tap on the Search bar and type Snapchat.

Tap on Snapchat
Tap on the Update button.

On iPhone
Open App Store.
Tap on your profile photo at the top.

Tap Update all
Clean Storage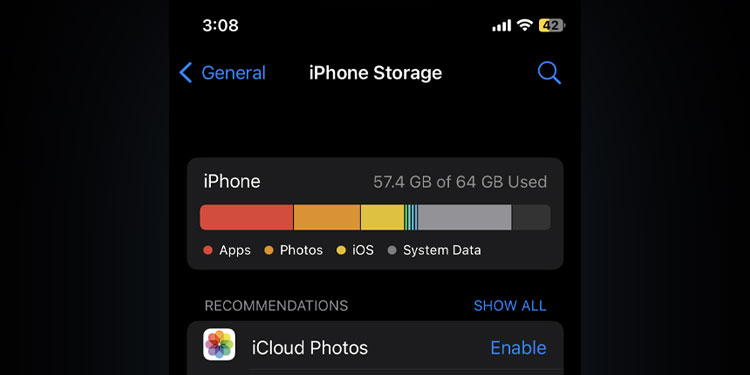 When your phone starts to run out of storage, the apps that use more storage start to give you warning signals. So, when your Snapchat lags or keeps crashing then be sure to check out your available phone storage.
You can do these things to clear up storage:
Uninstall unused apps
Move photos & videos to Drive or external storage
Delete duplicate files
Clear Cache
Caches are data that are important for an app to run. If you look at Snapchat's storage details then you will see that the app has a certain cache stored in it. When this cache builds up, it can affect the performance of any app. To avoid this you can clear the cache of any app so that the new cache can replace the old cache.
On Android
Open Snapchat
Tap on your bitmoji

Tap on the Settings icon

Scroll down to Account Actions
Tap on Clear Cache

Tap on Continue
On iPhone
Open Snapchat
Tap on your bitmoji 
Tap on the Settings icon
Scroll down to Account Actions
Tap on Clear Cache

Tap on Clear All

Reinstall Snapchat
Corrupt files and piled up cache can lag your app which can be fixed by uninstalling and reinstalling the app. Deleting and installing the app again will give the app an environment to work on. Unnecessary data is also deleted when you uninstall an app, so you also get some extra storage space.
On Android
Go to the Play Store.
Type Snapchat on the search bar.

Tap on Uninstall.

This uninstalls the Snapchat app from your device. Now open the Play Store again and try reinstalling the app again.
On iPhone
Tap and hold the Snapchat app for a few seconds
Tap on Remove app.
Tap on Delete App and Delete to confirm.

After deleting the app successfully, go to the App Store and reinstall Snapchat.