In huge Excel spreadsheets, the number of rows can expand to 100th rows or even more. If you have similar data, it can be very tiring to navigate through data using the scrollbar. You wouldn't want to scroll all the way up and down every time to look for information.
During such cases, you can Freeze multiple rows to keep them locked while you're scrolling the rest of the sheet. By doing so, you could easily compare values within the data. The best part is Excel allows you to freeze as many rows as you want.
Things You Need to Know Before Freezing Multiple Rows
When you freeze a set of rows in Excel, it also locks the Columns.
Your Active cell determines the number of rows and columns to freeze in the sheet. Meaning, Excel will freeze all the rows above from your active cell. Similarly, it locks all the left columns from the current selection.
For Example, D7 is my active cell. If I freeze panes, Excel will lock Rows from 1 to 6 and A, B, C columns.
Once you've frozen panes, you cannot use Ctrl + Z to Undo. You'd have to manually Unfreeze Panes.
Excel does not allow you to lock Top Row, First Column, and Multiple rows together. You can only freeze one of them at a time.
How to Freeze Multiple Rows in Excel
Using Keyboard Shortcut
If you need to regularly freeze multiple rows in Excel, I suggest you use the Keyboard Shortcut for this. With these shortcuts, you can instantly freeze and unfreeze panes in your sheet anytime.
To do so, click on a cell and enter the following keyboard shortcuts together. Note that when you enter keys, you do not have to press and hold them as you'd do for other shortcuts. Since this is an Excel ribbon shortcut, you can enter each key one after another. For Instance, press the Alt key. Then, enter W, F, and so on.
Shortcut key: Alt + W + F + F
From Excel Ribbon
You can also freeze a set of rows from Excel's ribbon. If you do not prefer shortcuts to perform tasks, this method is for you. Here, you can find the default Freeze Panes menu to do so.
Firstly, select a cell on your spreadsheet and go to View Tab. From Window Section, click Freeze Panes > Freeze Panes.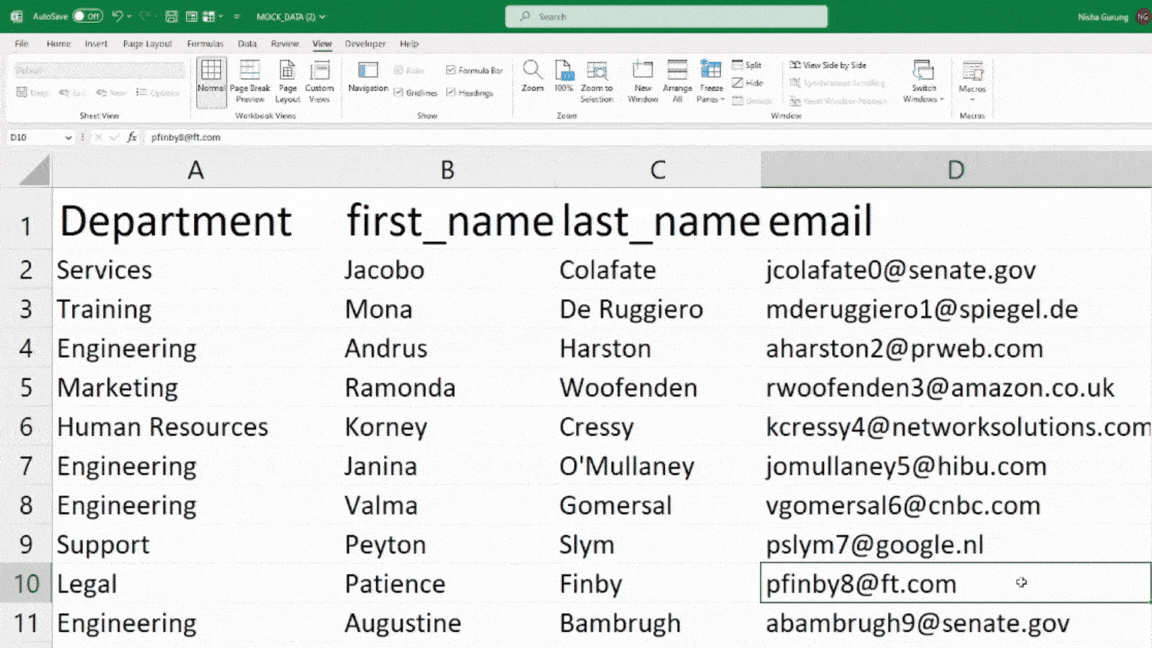 From Quick Access Toolbar
You can add a number of individual commands in Excel's Quick Access Toolbar to do tasks even more efficiently. As the name itself indicates, you can quickly access and use the added commands from the toolbar.
Here, we will insert the Free Pane command in the Quick Access Toolbar first. Then, we will click on the icon to use the command.
Hover over Quick Access Toolbar.
Expand the More icon > More Commands.

On Choose commands from, pick View Tab.

Select Freeze Panes and click Add. Then, hit OK to confirm.

Now, to freeze panes, select a cell. From Quick Access Toolbar, click on Freeze Panes Icon > Freeze Panes.

How to Unfreeze Multiple Rows in Excel?
After you freeze the multiple rows, you cannot freeze Top Row or First Column along with it. To use these options, you'd have to unfreeze first.
The quickest way to unfreeze rows is by using the same shortcut key as above.
Keyboard Shortcut: Alt + W + F + F
Alternatively, you can also unfreeze from Excel Ribbon. For this, head to View Tab. Click on Freeze Panes > Unfreeze Panes.