Every time you search a sender, date or message in Gmail, your Google account saves this search history.
Although search history helps us find information efficiently, excessive suggestions can get frustrating real fast and even slow down your search process.
So, if you do not want to deal with a cluttered search history and enhance your Gmail search experience, it's important to clear out outdated or irrelevant queries.
Delete Gmail Search History on PC
Currently, there isn't a built in feature that allows you to clear out entire search history all at once. Instead, you will need to manually select and delete items from your Gmail's homepage.
Log in and open your Gmail homepage.
Click on the Search mail bar at the top.

You will get the searched items listed. Hover on them and click on the cross sign at the right of the selected item.

Delete Gmail Search History via Google Activity Page
You can also delete your Gmail search items through Google's My Activity page. After accessing the Google Workspace search history, you can either delete items individually by topic or by time as well.
Go to the Google Workspace activity page.
Scroll down, and you should see your searches listed. You can manually click on the X sign beside the search activity.

Click on the Delete option and select the time frame.

Also, you can define your own timeframe from the Custom Range option amongst the existing timestamps.

If you want to turn off your entire Google search history, click on Google Workspace Search History under Your Personalization Settings and toggle the slider to Off. It will disable Gmail and Google Drive's search history.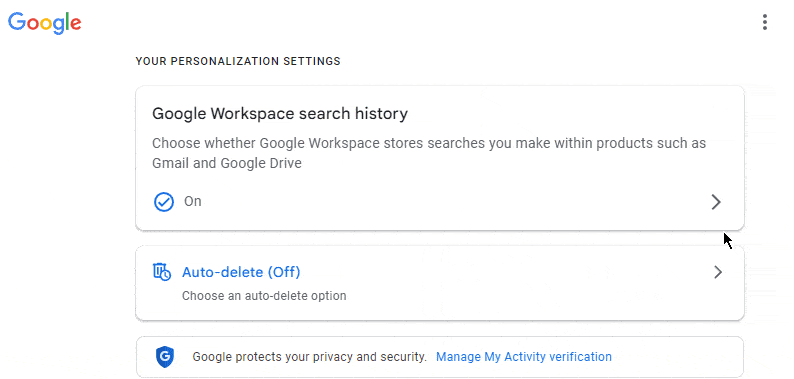 Delete Gmail Search History on Android
If you mostly access your Gmail from an Android device, you need to follow these steps to clear out your Gmail search history.
Open the Gmail App.
Tap on the three horizontal lines and then tap on Settings > General settings.

From the top right corner, tap on the three vertical lines.

Now tap on Clear search history.

Lastly, tap on Clear.

Delete Gmail Search History on iPhone
Similar to Android, the process of clearing out your search history on iPhone is pretty straightforward. Here are the steps.
Log in and open the Gmail app.
Tap on the hamburger button at the top left.
Scroll down and tap on Settings.

Now tap on Data privacy.

Then tap on Clear search history.

Finally, tap on Clear.

Frequently Asked Questions
How Often Should I Clear My Gmail Search History?
There is no one-size-fits-all answer to this question. You can clear your Gmail search history as often as you feel necessary, based on your privacy preference and needs.
Is It Possible to View My Gmail Search History After Clearing It?
No, you can not view your Gmail Search history after deleting it. So, you need to back up the search history before deleting the items from your Gmail.