When creating an informative document on Google Docs that requires entering specific data, like certain logos, symbols, or such, subscripts and superscripts are key elements.
While subscript is the smaller-sized text format at the bottom, superscripts lie at the top of the regular text. The latter is more prevalent when writing mathematical equations and formulas. As Google Docs has many accessible features, there are three easy ways you can add a superscript to your content.
Using Format Menu
One easy way to insert Superscripts is by accessing the Format Menu. This option allows you to enter any text in the Superscript format. Here's how you can add it in Google Docs:
Select the text that you want to convert to the superscript format.
Go to the Format menu.
Click on Text and then click on Superscript.

If you want to undo the superscript mode, follow the above steps again to deactivate it.
Browse the Special Characters Menu
There are specific characters in Superscript mode that you can't just type on your keyboard. They include symbols, like degree Celsius, currencies, copyright, or arrows, and such. To add these to your document, you'll need to open the Special Characters Menu. One benefit of using it is that you won't need to constantly turn on or off the Superscript mode manually. Here are the steps you'll need to follow:
Click on any area on your doc where you want to add the special character.
Then, select the Insert menu.
From the drop-down menu, click on Special Characters.

A new prompt will appear where you can choose which character to add to your content. If you can't find the one you're looking for, you can also directly type the keyword in the search bar. For e.g., you can type "degree" or such. Type "Superscript" to only use characters in that format.

Click on the X button to close the window.
Using Keyboard Shortcut
If you're a fan of using keyboard shortcuts, there's one for inserting superscripts as well. All you need to do is press the CTRL key with the + symbol and full stop, i.e., (CTRL + .)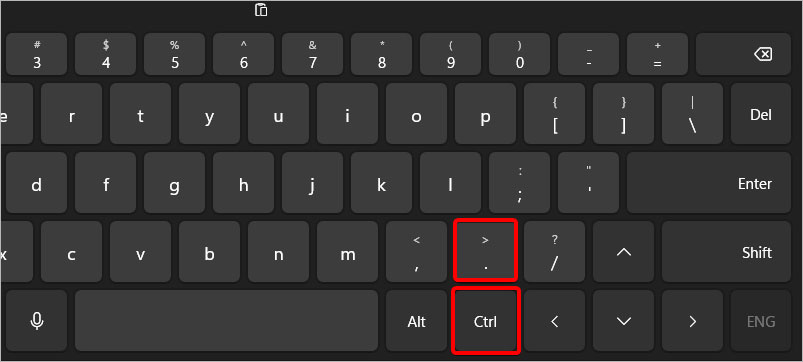 If you're on a Mac, press the Command key along with the period key. Once you're done adding the text in the Superscript mode, use the same keyboard shortcut to deactivate it. You can then continue writing text in normal font size.
Add Subscripts in Google Docs
Adding subscripts in your doc file is the same as adding superscripts. When using the Format menu, go to Text and then select Subscripts. As per keyboard shortcuts, use CTRL + , at once. Similarly, follow the above methods to go to the Special Characters menu. There, enter "Subscripts" in the search bar.