Notion is an increasingly popular productivity app that offers a wide range of features, such as managing tasks, projects, notes, and databases all in one place, helping individuals to stay organized and productive. Its clean user interface, extensive templates library, and flexibility make it a favorite among students, small companies, and solopreneurs.
We believe you need to have an app that aligns best with your personality and needs. In the meantime, users might be facing another pressing question—what note-taking apps are everyone else using?
Let's find out some apps based on their suitability and functionality if you're wondering which productivity app works best for you.
Best Apps like Notion
Obsidian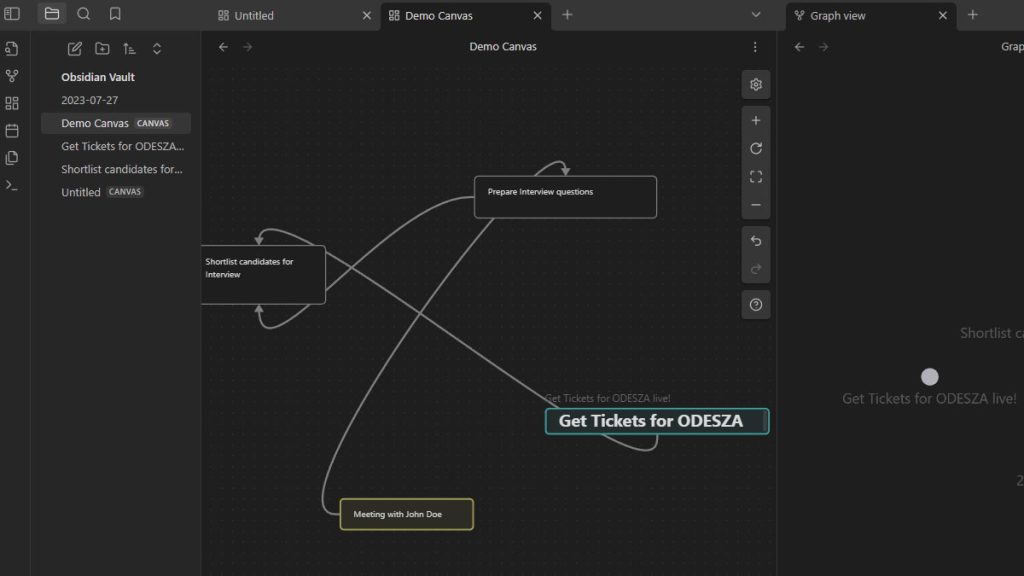 Launched in 2020, Obsidian was built on core principles to help fearless tinkerers thrive. Creating connections or links between your notes – ideas, books, visuals, etc is where it truly shines. With the help of endless plugins, the user is able to tailor obsidian to their custom fit.
Plan: Free for personal use whereas paid packages cost $50/year/user for commercial use
Platforms: iOS, Android, Windows, macOS, Linux.
Pros
Lightweight and highly customizable.
Ensures maximum security for your documents.
Can add a voice memo and embed it to any note.
Cons
Users might experience a steep learning curve.
Extra charges for features such as syncing across devices.
Evernote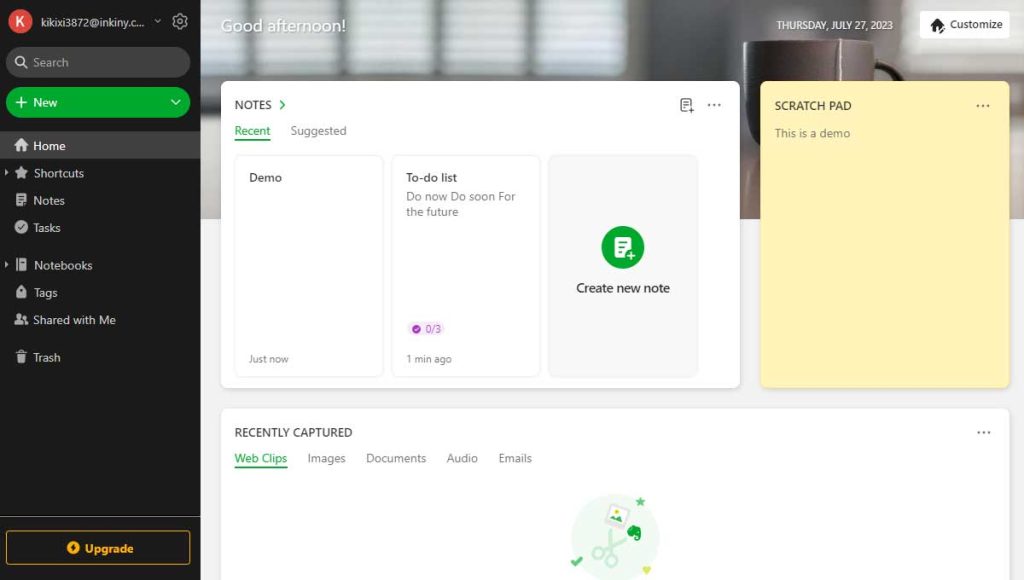 Plan: Free for personal use whereas paid packages start from $10.83/month for personal and $14.17/month for professional use
Platforms: iOS, Android, Windows, macOS
Initially launched in 2008, Evernote is one of the most widely used note-taking tools for its simplicity and cross-platform syncing capabilities. It fulfills the purpose of creating notes where photos along with audio and web content can be embedded.
It has a unique feature that finds notes by searching keywords even if the words appear in photos, scans, or other documents.
Pros:
Simple user interface.
Ease of data entry through typing, recording voice notes, or image capture.
Seamless syncing across devices.
Cons:
Lacks auto-saving feature.
Free version is only limited to two devices, and the premium plan is quite expensive.
Problem Integrating with other apps.
Anytype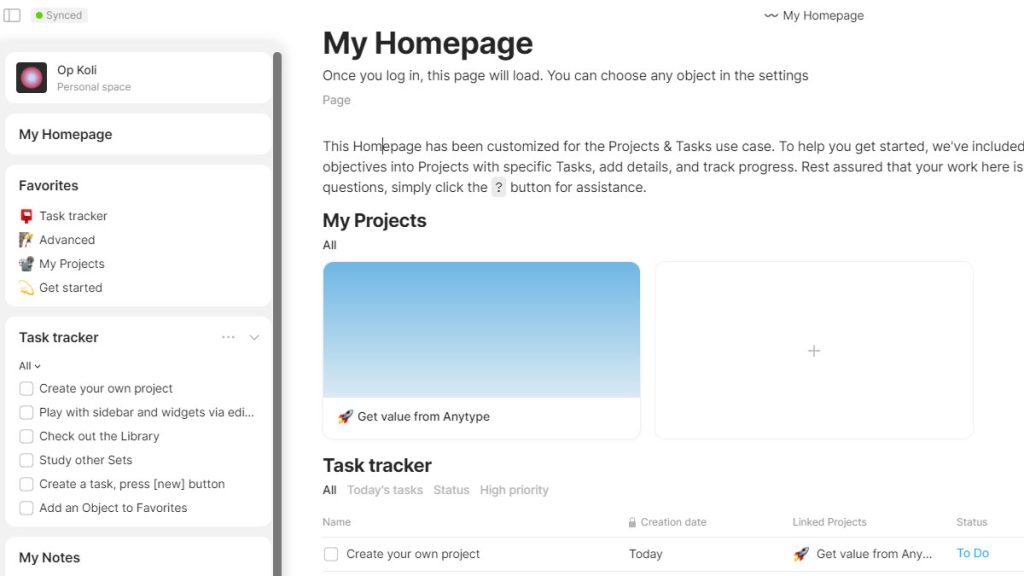 Plan: Free (open-source app)
Platforms: iOS, Android (Early-Access), Windows, macOS (Beta)
Anytype is a next-gen productivity and note-taking app where you can manage projects, vault data, plan trips, and organize your life in general. It basically works as your second brain. It is similar to apps such as Obsidian and Notion but has some interesting features that make it stand out.
For instance, Anytype is an offline-first, meaning you can work without the internet. The data is synced back to other devices when the internet is back online. The peer-to-peer sync feature makes your data more secure.
Although it is only in beta testing now, it already has most of the functions a productivity app should have.
Pros:
Intuitive and well-designed UI/UX.
End-to-end encryption to secure maximum security and privacy.
Open-Source app meaning anybody can modify the codes as they see fit.
Cons:
Since it is only in Beta testing, features and plans (paid plans and features) can be added in the future.
Hive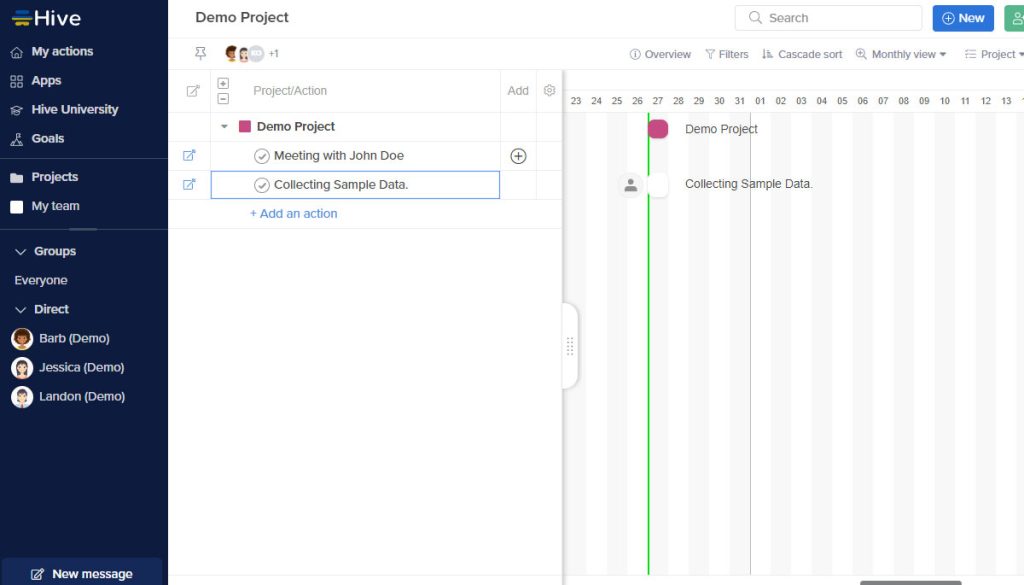 Plan: Free for personal use whereas paid packages start from $12/month
Platforms: iOS, Android, Windows, Mac
Hive is a modern team management application meant to serve as a one-stop shop for all your needs. Hive intends to bridge the gap between a productivity tool users love and the leaders require.
Its easy-to-use dashboard along with other notable features such as third-party integrations, multiple project views, optimize repetitive workflow, feedback and modifications, etc., provide a pleasant experience to the user.
Pros:
Smooth layout across interfaces.
Ideal for cross-functioning teams.
Provides versatile work views such as Gantt View, Kanban View, Table View, Calendar View, etc.
Cons:
It has a steep learning curve.
User navigation has been reported as an issue.
Lack of designs and templates.
Amplenote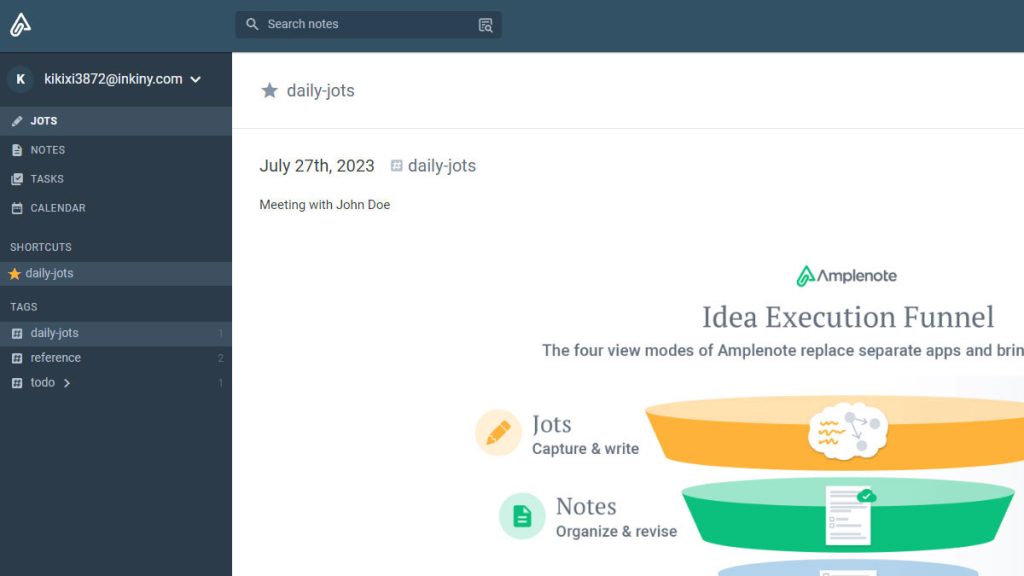 Plan: Free for personal use whereas paid packages range from $5.84/month to $20/month
Platforms: iOS, Android, Windows (via PWA), macOS, Linux
Amplenote is a productivity app that is best suited for freelancers. It is a personal productivity app for tasks, projects, calendars, etc. It lets users combine notes and tasks to tap into their full productive potential. However, being a note-taking app, you cannot use it to do databases, and you cannot have dashboards.
For someone who is a newcomer to note taking, Amplenote presents a good option.
Pros:
Fully functional offline mode.
Multi-level tagging to help keep organized.
Competitive pricing.
Cons:
Mediocre UI/UX design.
Not end-to-end encrypted.
Upbase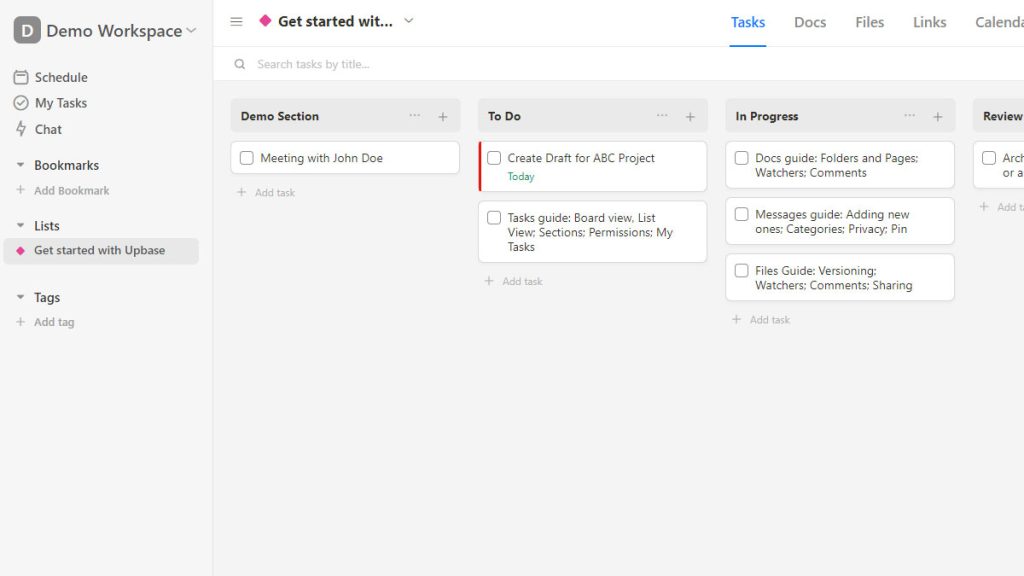 Plan: Free for personal use whereas paid packages start from $6/month
Platforms: iOS, Android, Web
If you're a solopreneur, freelancer, or small team, Upbase is a unique productivity tool that might be best suited for you. It offers special features such as Time blocking, Pomodoro timer, and Daily notes. It is incredibly easy to use with little to no learning curve.
Upbase can be best suited for marketers, project managers, and remote teams.
Pros:
It has a shallow learning curve with a neat UI/UX.
It offers good value for money.
Cons:
Not ideal for large enterprises or teams.
Does not provide offline mode.
Trello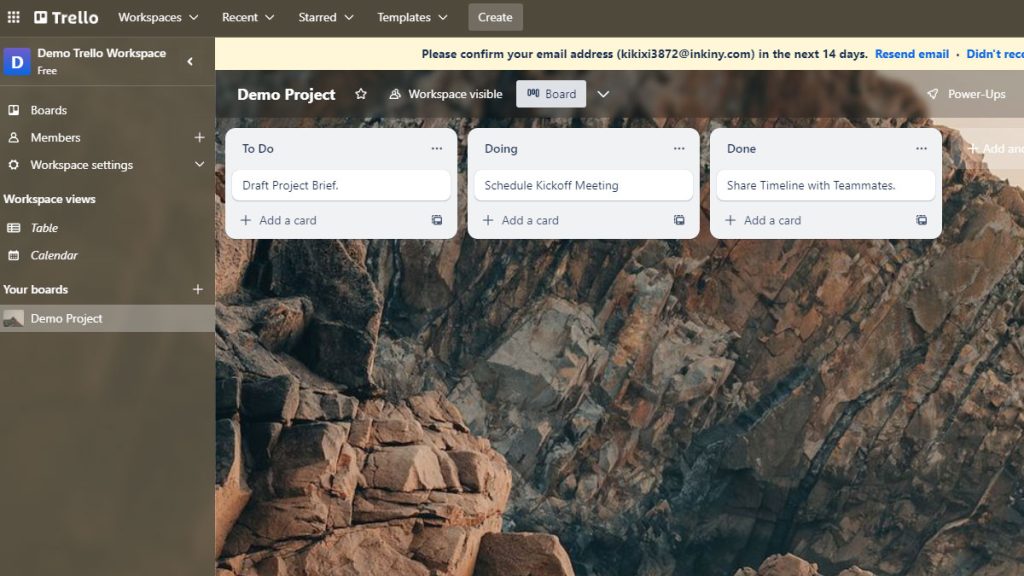 Plan: Free for personal use whereas prices range from $5 for standard to $17.5 for enterprise packages
Platforms: iOS, Android, Windows, macOS
Initially released in 2011, Trello is a good productivity application with good task management software. It provides a Kanban view of your tasks while lacking built-in Gantt Charts.
Trello offers features such as boards, which allow you to organize tasks and collaborate with your colleagues to keep track of your information. Another key feature of Trello is called cards, where you can represent ideas and tasks in brief.
In spite of that, it lacks features such as time tracking for individual projects and a calendar view which would be useful in tracking updates.
Pros:
Good visual overview of tasks.
Helps you track to-do lists and create different boards to stay organized.
Ease to assign tasks to specific members.
Cons:
UI needs an update.
Lacks integration with Google Calendar.
Microsoft Loop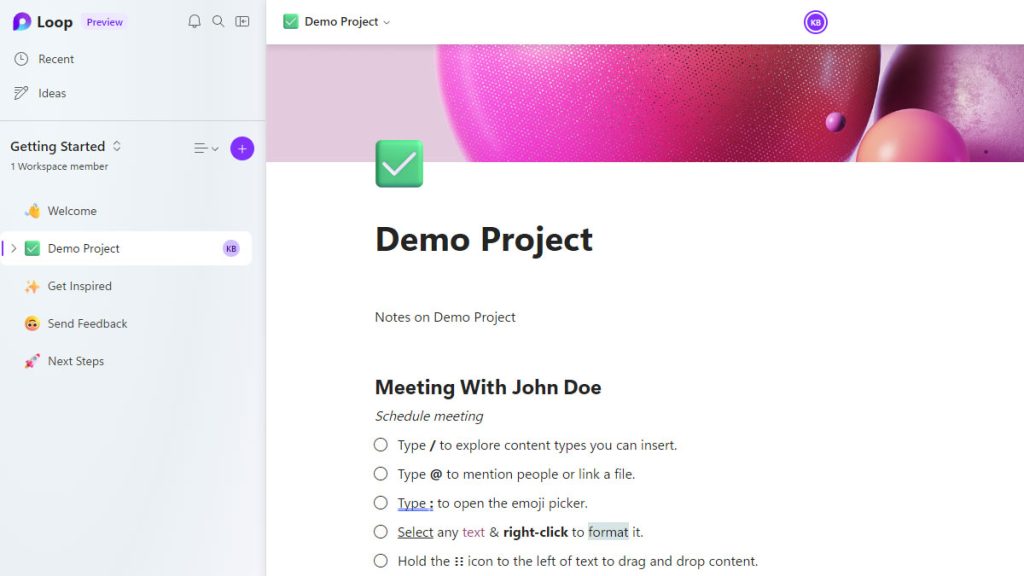 Plan: Loop comes with the Microsoft 365 package
Platforms: iOS, Android, Windows, macOS
Microsoft announced the Loop app in 2021. It is a team collaboration app where you can invite your team to work on a project together in real-time, similar to Notion. It is made up of a workspace, pages, and components.
Loop allows you to easily share information with people outside your workspace and stay in sync no matter where they are updated. This helps in working remotely, while Loop's mobile app helps to work on the go.
Pros:
Easy to adapt and user interface.
Highly suitable for large groups of people.
Cons:
Criticized for having many similarities to Notion.
Limited availability across Microsoft 365 apps.
Clickup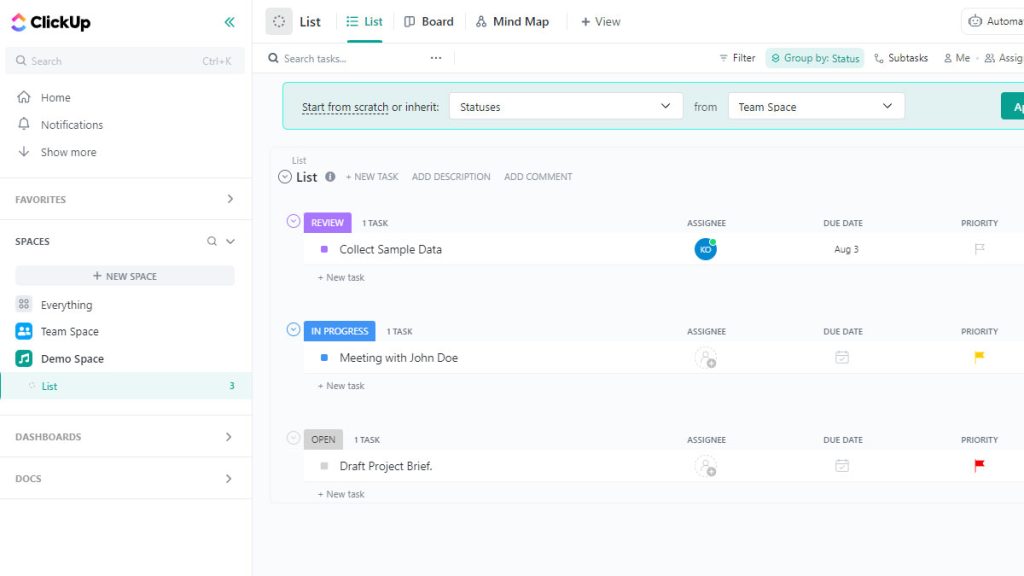 Plan: Free for personal use whereas paid plans range from $5/month for small teams to $19/month for multiple teams
Platforms: iOS, Android, Windows, macOS, Linux
Founded in 2017, Clickup is a project management software that allows you to plan, track, and manage any work that syncs with your team's needs. Also, when it comes to customization, Clickup is pretty amazing as well.
It allows you to utilize a ton of features like assigning and resolving comments, thread comments, Google Calendar sync, importing work from other project management apps, and many more. It's got all the features you'd expect from a top-tier project management app.
Pros:
Fairly easy to set up.
Highly customizable and extensive view options and custom fields.
Good pricing and competitive offerings.
Cons:
Issues with some automation.
In-app notifications might get overwhelming.
Slab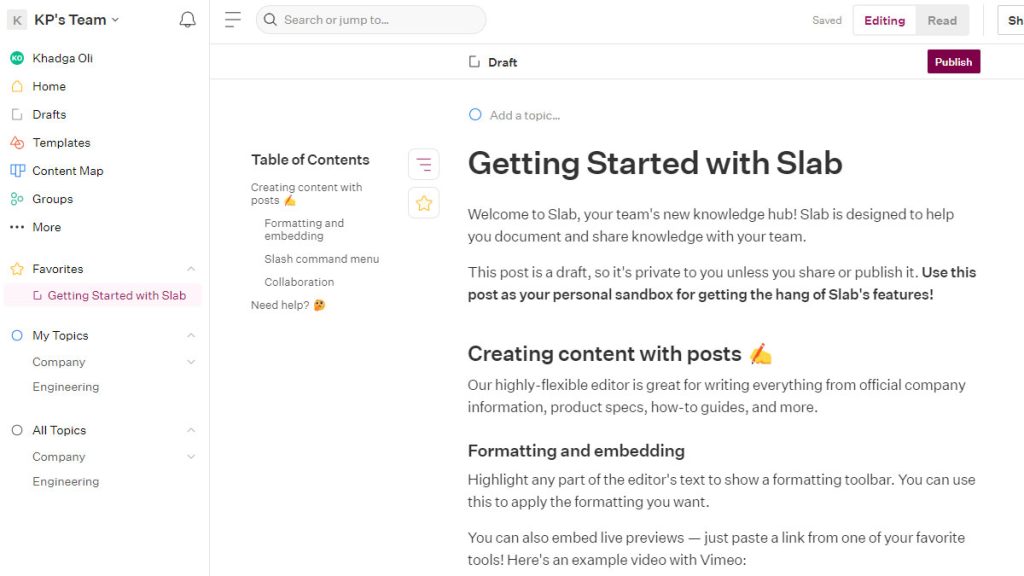 Plan: Free for up to a group of 10 users whereas paid packages range from $6.67/month and above
Platforms: Web
Slab is a productivity tool built by engineers for engineers. Slab is fully optimized to be used as a knowledge base or Wiki.
It utilizes advanced features and shortcuts to keep coders ahead of the curve. Meanwhile, it is equally loved by operations and sales teams. Slab acts as a central place to store and access information, maintain transparency, and align all work in the same place.
Along with all that, Slab plays a substantial role in integrating multiple tools across the organization and documenting information.
Pros:
Easy navigation by breaking documents into groups/departments.
Easy access to linking documents and sharing information.
Cons:
Lacks a variety of text editing capabilities.
Lacks availability across mobile devices.
Nuclino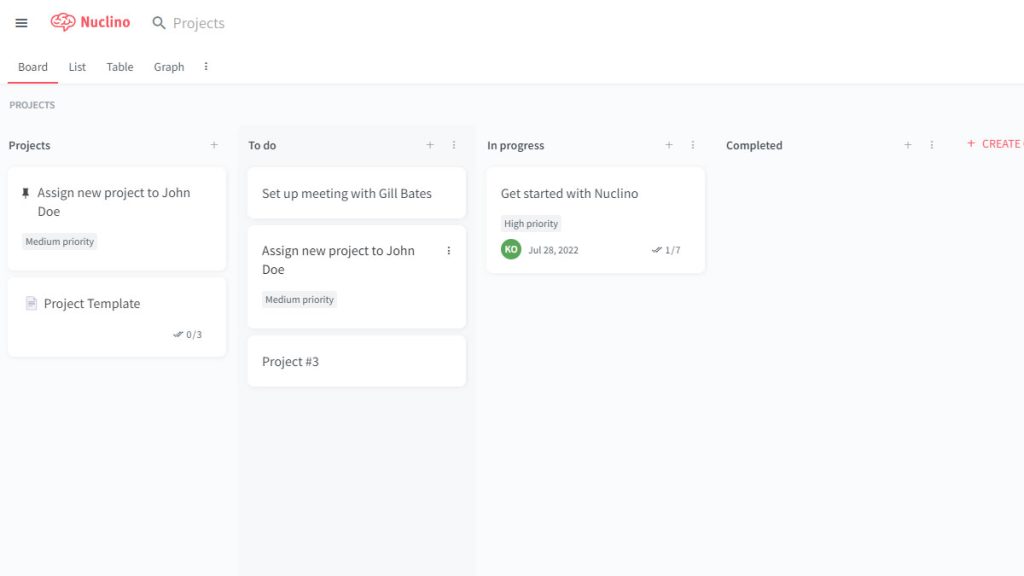 Plan: Basic version is free for up to 50 items and 2GB storage whereas paid packages range from $5/month to $10/month
Platforms: iOS, Android, Windows, macOS, and Linux
Nuclino is a productivity tool launched in 2017, which is an easy way to organize and share knowledge in teams. Let's think of it as your team's collective brain.
Every task or project is organized around workplaces. The workspaces can be private or public, depending on your need. You can create them according to your personal or company's needs for projects, departments, topics to anything you want to store, share, and collaborate on.
Nuclino also provides you with a board view which enables you to track your items in a workflow. You can also connect your documents in a visual way through the graph view.
Pros:
Easy to set up and use.
Great search interface.
Offers real-time collaboration.
Cons:
Lacks offline use possibility.
Not ideal for big teams.
Google Keep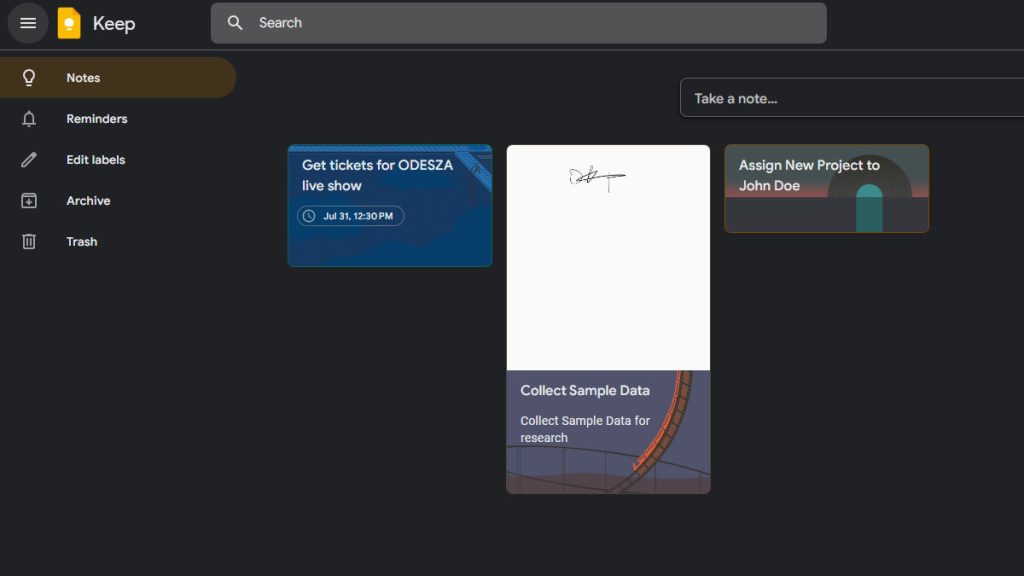 Plan: Free(upto 15GB), $1.99/month for 100GB, $2.99/month for 200GB, and $9.99/month for 2TB
Platforms: iOS, Android, Web
Google Keep is a compact note-taking service offered by Google. Pinning, reminders, and labeling are some of the most prominent features in Keep. Basically, Keep offers a simple yet pleasant UI/UX which is used to jot down ideas and tasks for your projects.
Sharing your ideas or plans is also made easy in Google Keep as long as the other person has a Google account.
Pros:
Easy to use UI/UX.
Incredibly handy for jotting down ideas, plans, blogs, or even pictures.
Sync across all devices.
Cons:
Not ideal for big teams.
Can't change text format or undo changes.