Have you ever visited your friend's profile on Instagram and got the error message "User Not Found."
But, before making any judgment about your friend blocking you, keep in mind that this error message can appear for a variety of reasons. Your friend might have deleted the account or was banned by Instagram.
We have listed a complete guide on how to pinpoint why you are seeing "User Not Found" on your account
What Does the 'User Not Found' Mean on Instagram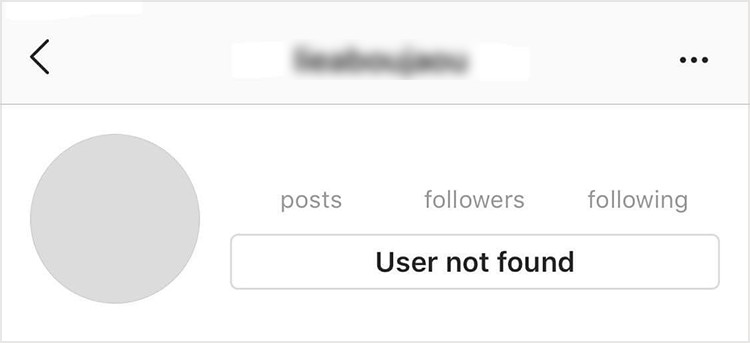 If you are seeing a 'user not found' prompt on someone's profile, it can mean a number of things. We will be discussing them elaborately below.
The User Has Temporarily Disabled the Account
Instagram is a great social media platform, you can promote your business, generate revenue, post ads, and do a whole bunch of things. But at times, it can be very distracting as it is designed to be addictive, just like any other social media platform.
Some people realize this and try to get off the platform for a while to unwind from their addiction to digital social life. Some just log out, some delete the Instagram app while some prefer to disable their account temporarily.
When someone temporarily disables their account, it is no longer accessible by anyone else except the account owner. So when you try to visit their account, it reads that the 'user is not found.' It will remain the same until the user activates their account.
So, how can you fix this? Well, if the account is your own or you have access to it, you can simply re-login and bring it back to life.
The User Has Deleted the Account
This scenario is more or less the same as the one mentioned above. There is only one difference, and it's a huge one. While you can activate a temporarily disabled account later, you can not bring back the deleted account after the initial deletion phase has passed. The initial deletion phase is the number of days Instagram keeps your deleted account on standby just in case you change your mind and come back to being a user again.
A deleted account's profile will read 'user not found.' A search result of the user's username will not yield any results either. Unfortunately, there is no solution for this issue once Instagram deletes the account forever. You can save the account by logging in within the initial deletion phase.
Instagram Has Banned The User
Instagram strictly implements its community guidelines among users so that the platform is free of graphic, malicious, and adult content. However, there are instances when Instagram has banned accounts for reasons such as data breaches and personal info leaks. Basically, someone else has got your password and is trying to steal your private and confidential info.
Instagram also bans people who use third-party applications to increase their follower count, likes, and comments. Some apps use bots to promote these factors. In any of these aforementioned cases, Instagram will ban the Account. Sometimes it's a temporary ban while the worst-case scenario would be permanent deletion of the account.
A banned account's profile will read 'user not found.' You will not be able to find their account by searching for the username either.
So, how do you get over this issue? In most cases, the ban lasts for a day or two after which you should be able to visit the user's profile again.
The User Has Blocked You
Most people assume that they have been blocked by a certain account when they see the 'user not found' screen. Although it is one of the reasons, it certainly is not the only reason.
In order to visit the user's profile, the user must unblock you from their account.
Frequently Asked Questions
How Do You Know if Someone Has Blocked You on Instagram?
To check if someone has blocked you or if the person has just deactivated their account, you can use this simple trick.
But before you follow these steps, you must have the username of the account you are trying to visit. Since the account profile will no longer show the username of that particular account, you will have to have known the username by heart. It is not completely impossible to search for the account without the username, but it takes a lot of time and sometimes if the user's name is a common one, you may not be able to find it.
Use someone else's account, preferably one that has no connection to the person you are trying to check up on, and search for the account. If you have the full username, you will have no trouble finding the account (if it is not deactivated). If you do not have the username, navigate through the search results until you find the account you are looking for. If you do not find the account, the chances are that the user has deactivated the account.
Can You Get Unbanned From Instagram?
In most cases, banned accounts are unbanned after a certain time. However, in rare instances, Instagram bans the user permanently if the case is severe or if the user has repeated the same misconduct repeatedly.